If at first you don't succeed...
So, yesterday I was all set to make a second journey to the all-female
hammam
in the
medina
of Tunis at which Lea and had unsuccessfully attempted to bathe a couple weeks ago. I talked to some girls from Yale who had a positive experience there recently, and after waking up with rolls of dead skin falling off my arms and back (a lovely image, isn't it? I'm sorry to be so graphic, but you just can't imagine how dirty and disgusting I feel, even though I shower and a fairly regular basis, which is more than I can say for some people I know...), I decided that enough was enough. I would brave the maze-like backroads of the medina, the scorching heat of the early afternoon sun and the half-naked Tunisian women again in order to finally be clean. I even made a special trip to
Champion
(a modern super-store unlike anything else I have seen in Tunisia) to buy the necessary supplies for my journey. I was ready.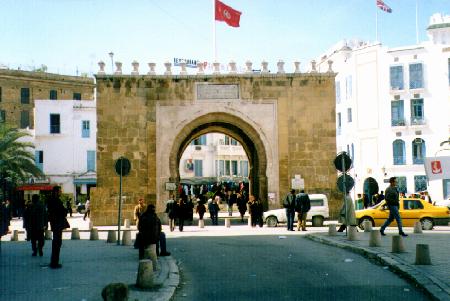 After "graduation," a trip to the superstore and a brief stop at an amazing little café near Bourguiba that we just discoverd, I set off to the old city, accompanied by Nora and Adam who planned to do some shopping in the
suq
. After another
harrowing
journey through the medina that made me thouroughly miss Nathanael, the only person who ever made a trip there a completely positive experience, we reached the colored archway signaling the presence of the bathhouse. There was a man with the paint brush standing in the doorway. He motioned for me to go inside. After taking a few seconds to mentally prepare myself for the task that lay before me, I walked through the archway only to find an abandoned room with no water, no half-naked Tunisian women scrubbing themselves vigorously, nothing.
I have now been the the Zitouni hammam twice, and neither time have I tasted the sweet fruit of victory or sipped from the cup of cleanliness. I will not give up, however. I will not throw my figurative and literal towel in. God help me I will be clean if I have to go back a hundred times. I will try again this week. Hopefully the goddesses of the hammam will take pity on this filthy wretch and grant me a bath.
Inshallah
...
I did get a chance spend the afternoon shopping with Nora and Adam, which turned out to be very fruitful and a lot of fun. We ended up making several purchases, staying in the city until dark and eating at a nice little place with air-conditioning(!!!) on Habib Bourguiba. We also ran into Eric and Ann at a café on the street, which led to the bad news that my aparment situation for next month (which starts in about two days) isn't quite as finalized as I thought it would be...Oh, well. No worries. If worst comes to absolute worst, I still have a spot in Salambo, although I would probably move into the dorms with Lea before staying out there for another month.
The end of session party held by the Bourguiba school at the coed dormitory on Friday night was total blast (aside from the intoxicated escapades of a certain undergraduate). The 3-hour-long show was comprised of cultural acts from almost every country represented at the Institute. It included dancing, acting, singing, poetry and instrumental performances. Adam and I had been playing around with some harmonies to various English tunes for a couple weeks and had decided that we would tow the American line and represent our lazy countrymen on stage. We sang an old-timey Bluegrass tune called "Canaan's Land" and an Irish tune called "The Parting Glass." The former, which we usually sing very well and had worked on for over a week, kind of sucked, whereas the latter, which we started working on less than 24 hours before the show, kind of rocked. Go figure.
The Parting Glass

Of all the money ere I had, I spent it in good company,
And all the harm I've ever done, alas was done to none but me
and all I've done for want of wit, to memory now I can't recall
so fill me to the parting glass, goodnight and joy be with you all.

Of all the comrades ere I had, they're sorry for my going away,
and all the sweethearts ere I had , they wish me one more day to stay,
but since it falls unto my lot that I should go and you should not,
I'll gently rise and softly call, goodnight and joy be with you all.

If I had money enough to spend and leisure time to sit awhile
there is a fair maid in this town who sorely has my heart beguiled
Her rosey cheeks and ruby lips, I alone she has my heart in thrall
so fill me to the parting glass goodnight and joy be with you all.
Oddly fitting considering the circumnstances...